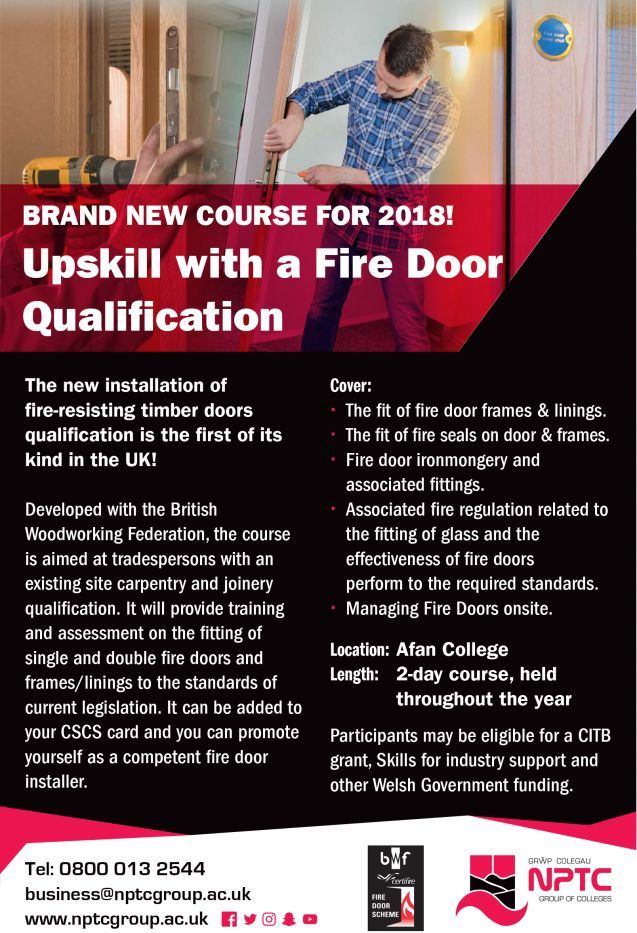 Assessment
Installation of Fire Resistant Timber Doors
Description
This established training programme is the first of its kind in the UK, developed with the British Woodworking Federation (BWF), the course is aimed at tradespersons working in the site carpentry and joinery industry. It will provide training and assessment on the fitting of single and double fire doors and frames/linings to the standards of current legislation.

Course Duration
2 days study plus onsite assessment.

Location
Pontardawe College (alternate venues are available throughout the UK).

Who Should Attend
The Fire Door and Installation training course has been designed to help support experienced tradespeople refresh their knowledge and skills in relation to timber fire doors, third party certification and carrying out inspections and maintenance.

Entry Qualifications
Whilst those not currently fitting fire doors are able to attend and receive the training, they would not be able to go through the assessment and achieve the unit if they are not currently fitting fire doors. To complete the full qualification, those attending will be required to carry out the work on a door sets in the workplace.
Course Content
This course covers the following topics:
- The fitting of fire doors
- Fire door frames and linings
- Understanding and fitting of fire door ironmongery and seals
- The inclusion of apertures and associated fire regulations related to the fitting of glass
- The effects of use on fire door performance

Method of Assessment
On-site assessment in the workplace.

Course Cost
£850.00

Certification
Following successful onsite assessment, the candidate will be able to display competency on the reverse of the Construction Skills Certification Scheme (CSCS) card, which is used to demonstrate that individuals working on construction sites have the required training and qualifications for the type of work they carry out.